Two friends. Traveling. Gallons of coffee. Meeting new people. Visiting stylish cafés. Adventures, memories, unforgettable moments. Well, that's how you can shortly describe the project European Coffee Trip. Does it sound like a dream job to you? It sure is, as both Radek and Aleš, who are behind the project, agree.
It was Aleš Pospíšil, who came up with the idea to start an online magazine about specialty coffee. His aim was to map quality coffee houses around Europe. Aleš was interested in coffee for quite some time when he shared his idea with Radek Nožička. Radek loved the concept of European Coffee Trip and joined Aleš on his coffee journey.
Radek was prolonging his studies at that time and was thinking what to do with the empty year. The coffee project came in the right time and Radek took his chances. Although, as he himself says, he didn't in fact understand coffee back then.
When did you start to be more interested in coffee? 
Radek: I have always loved going to coffee places and enjoying the atmosphere. I didn't care about the taste of the coffee then. But I remember how Aleš was preparing coffee at our study meetings. I enjoyed how the preparation of coffee with V60 looked visually. When Aleš shared the idea of European Coffee Trip with me, he was also looking for someone to help him document the project.
I had DSLR camera at that time but I didn't really take photos. Coffee became the topic to help me become a better photographer.
Did you succeed?
Radek: Well I hope I did (laughing).
We hear a sound from one of the machines behind us when Aleš starts to prepare a cup of coffee.
Aleš: I'm making filter coffee, we have quite a lot of machines for that. You can prepare coffee at many levels. While espresso is really strong and intense, filter coffees are not so strong but their flavour might feel much more intense. Moreover, to make good espresso you need a lot of expensive tools.
You need a lot of expensive tools to make good espresso
You have espresso machine here, as I see.
Aleš: Actually, it was our dream to get our own espresso machine to learn latte art, cappuccino… Our dream came true. Czech distributor of one of our sponsors lent us the machine so that we could try it and show it to people. At first we were really excited. But then I remember Radek complaining that "the filter coffee is better anyway".
How come?
Aleš: You saw it yourself. When I'm preparing filter coffee, it's done in 5 minutes. However, preparing espresso is much more difficult. Firstly you need to clean the coffee machine, set it right and more importantly clean it after you're done. Too much work for one espresso. To make excellent espresso is really expensive, even at home. On the other hand, you can prepare excellent filter coffee at home for relatively cheap price. The most important thing is to have quality coffee.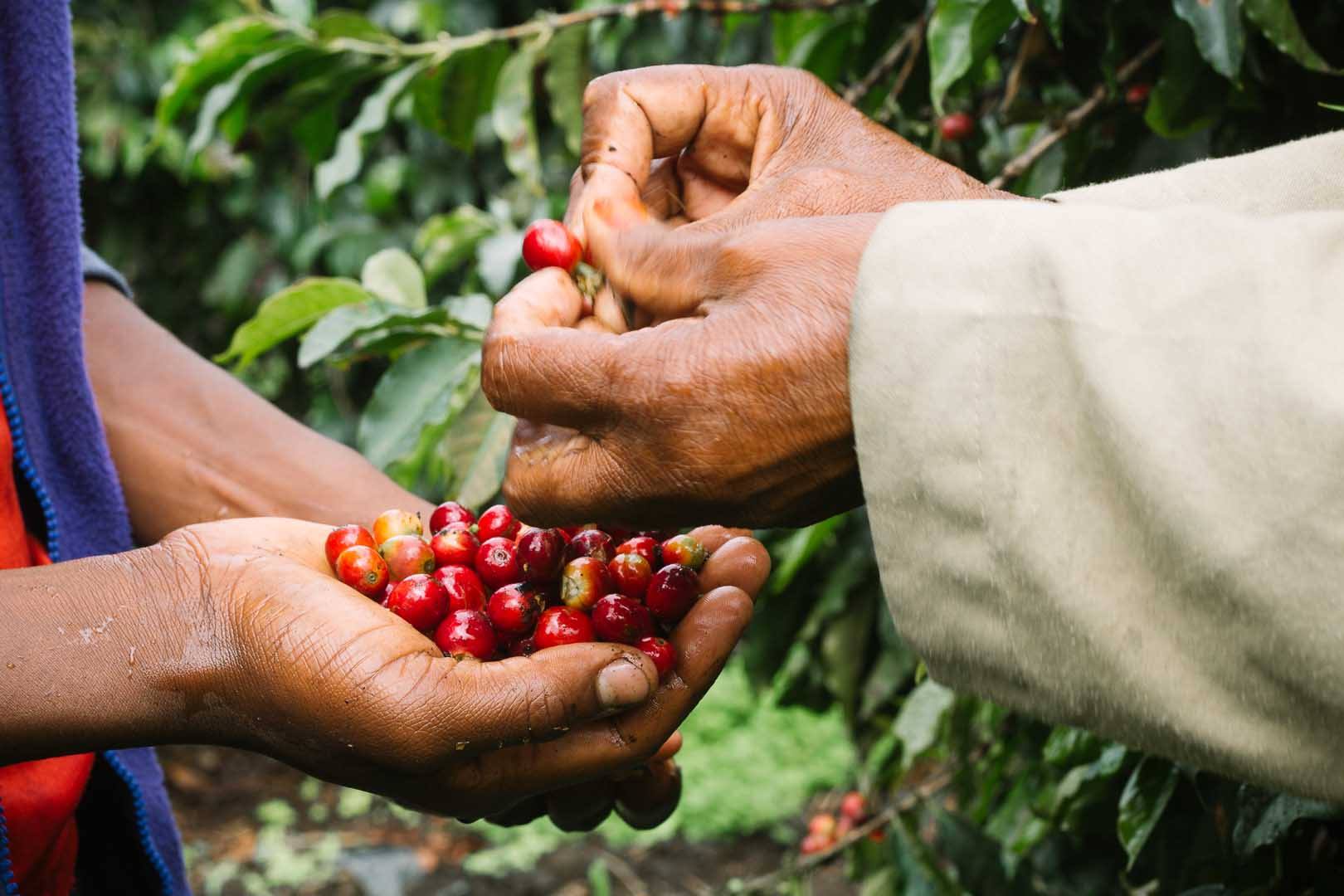 How do I recognize good quality coffee?
Aleš: The basic thing is to know the date when the coffee was roasted. The date shouldn't be longer than one month. It is ideal to consume the coffee in one, maximum one and a half month. Then it depends on the style of roasting. It's more subjective, but the coffee should definitely smell nice to you. If it seems burnt, it's not good.
How long did it take you to become coffee expert?
Aleš: I wouldn't exactly say we are coffee experts. I started to be interested in coffee about year and a half before we started European Coffee Trip. The starter for me was a home barista course, organized by Jaroslav Tuček, owner of a great Doubleshot coffee roastery in Prague. It was at that time, when I first learned coffee can smell like strawberries or chocolate. When Jaroslav told us we will smell the strawberry, we were laughing at first. But when he opened package of Panama coffee, we really did smell that. Then I started to experiment with coffee. When I was working in Zurich I launched "Coffee club Zurich". We organized many workshops, went to museums and various cafés. It helped me realize that if I really want to learn something, it's better to find a group of people that are interested in the same thing.
This applies to European Coffee Trip as well, I suppose?
Aleš: Sure. Thanks to ECT we have the opportunity to meet the top professionals in the field. The great thing is that they are open to share their knowledge. It's because specialty coffee is still quite a young phenomenon. 10 years ago, nobody knew anything about it. That's why now everyone is sharing their know-how rather than keeping it for themselves.
Everybody is sharing their know-how rather than keeping it a secret
How long did it take you, Radek, to fully get into the world of coffee?
Radek: Long (laughing). Aleš was having fun with me in the beginning because I didn't even know what to order, I had no idea about coffee. For a long time I didn't even have any coffeemaker at home. However now I love it a lot and I use the preparation of filter coffee to take a break and relax for a while.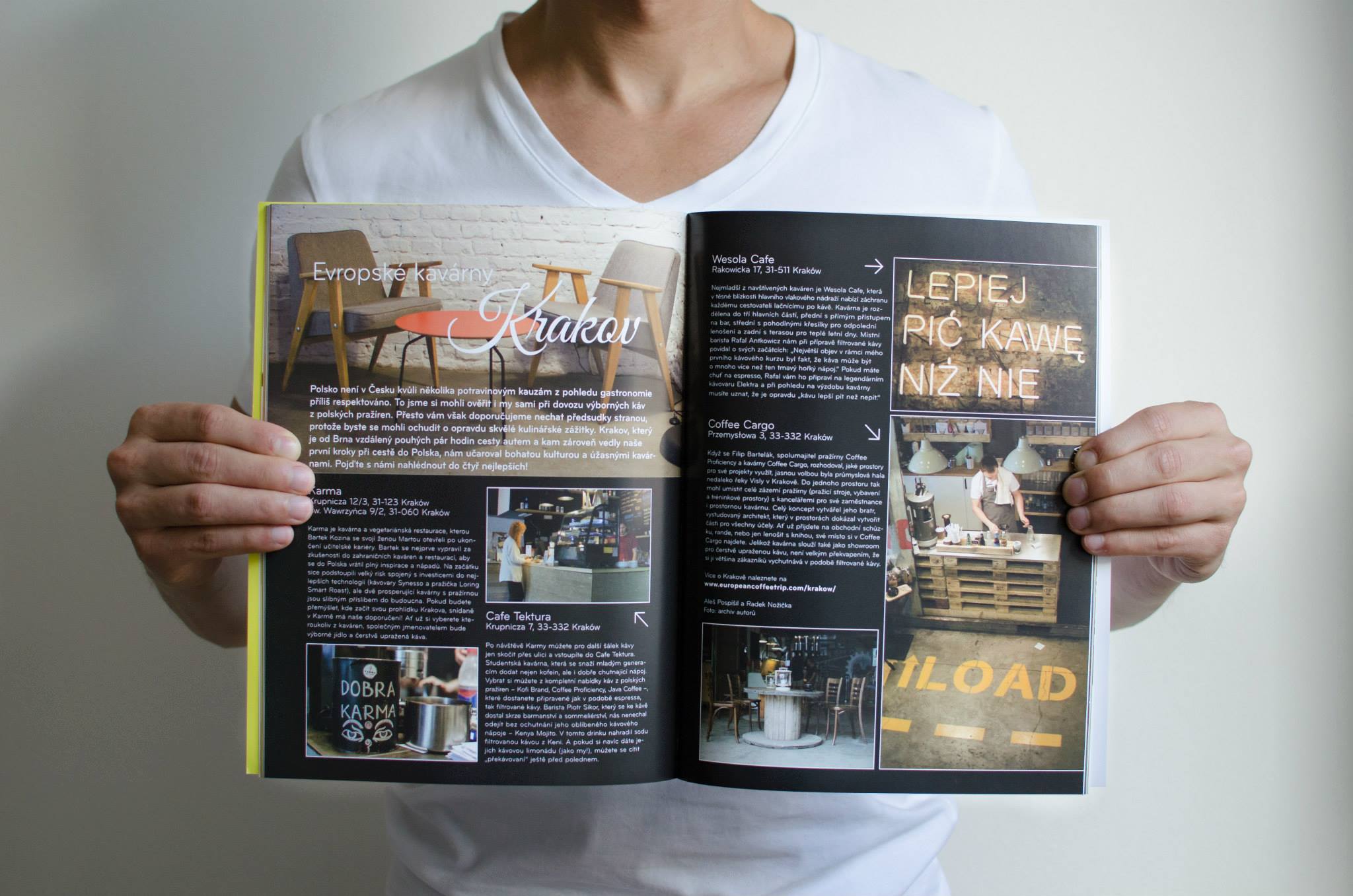 How is the coffee scene in the Czech Republic like?
Aleš: We have one of the most advanced coffee scenes in our country and that applies to cafés as well as to roasteries. They are at a really good level. In Brno, I would definitely point out Gill's Coffee, Rebel Bean and Rusty Nails. They are not the biggest roasteries but they are doing their job really well. We also have several champions from many international competitions. The winner of last year's Czech championship, Adam Neubauer, recently moved to Brno and plans to open his own coffee place.
Radek: You can see his espresso machine in the corner. Black Eagle. One of the best espresso machines in the world. It's like Ferrari among espresso machines. Adam held a workshop here so he left it at our place for some time.
How much does espresso machine like this cost?
Radek: A bit less than a new car.
What was the biggest surprise for you during the coffee travels?
Both: Ukraine.
Radek: Definitely Ukraine. Everyone was warning us before our departure and advising us not to go anywhere. Saying that there is war and it won't be safe and so on. And we arrived to Lviv, where they were making absolutely amazing coffee. I remember I ordered one more espresso. I didn't even drink espresso at that time. In Lviv, they convinced us that we have to go to Kiev at least for one day.
What made Kiev so interesting?
Radek: They have probably the most advanced concept of coffee houses. For example, we visited coffee house that was made in the style of Apple Store. Simple beautiful design, barista picks you up at the entrance and walks you through the café. The whole place was amazing. They also had their own roastery and were only selling "Cup of Excellence" coffee. This means the coffee contains only the highest quality beans. You could also tell that from the price. But with the barista showing us the place and explaining everything, they basically showed us why the prices are so high and that it is worth it.
Ukraine has really advanced concept of cafés
Ukraine was the biggest surprise. Which place did you like the most?
Radek: Probably Poland. It was also because we didn't really expect anything from Poland. We somehow thought that the Western countries will be better. We didn't know what to think about Poland. But we couldn't be more surprised. When we arrived, we met amazing community of people. We found accommodation through Couchsurfing. And the girl who was hosting us arranged two interviews with us after our arrival. One in radio and one in TV. She was even apologizing if it's okay with us (laughing).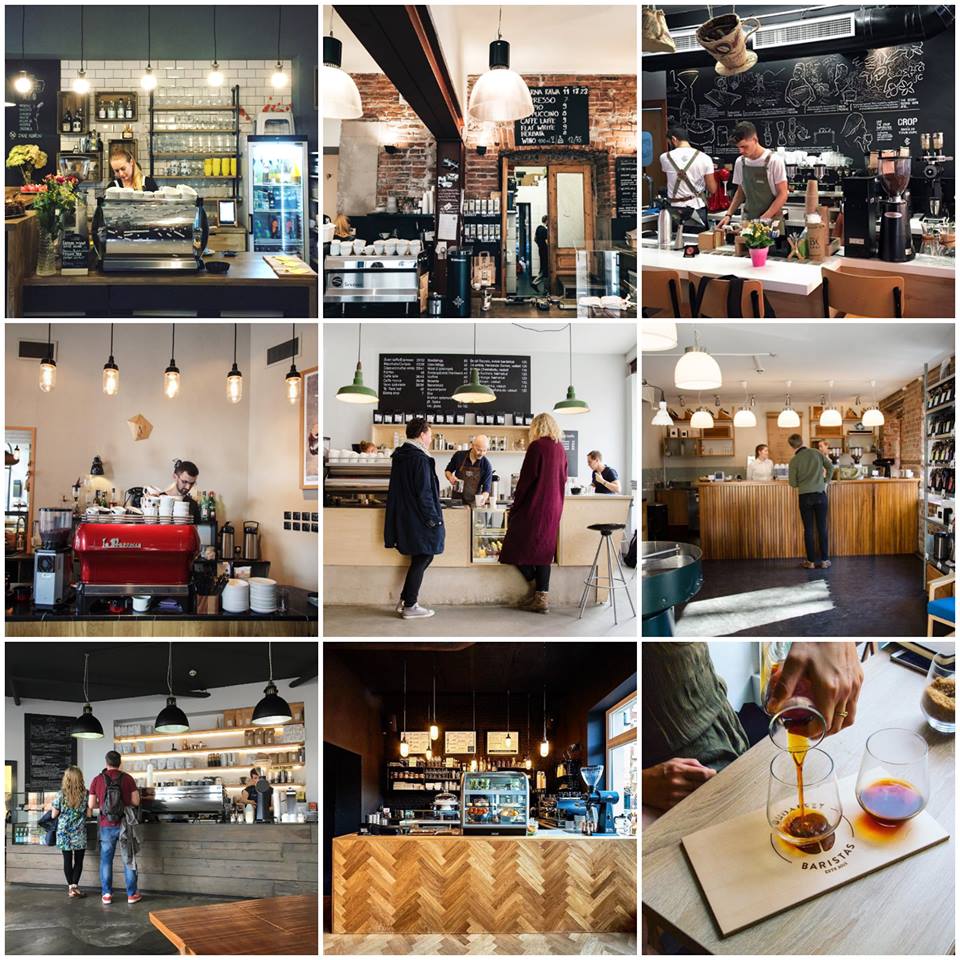 So you arrived to Poland as celebrities.
Radek: It was really interesting. They made a nice story about how we travel around Europe and map the coffee scene. And I was, after one month in the coffee business, labelled as coffee expert (laughing).
What is the best thing about your coffee travels?
Both: Meeting the people.
Radek: There are many people in the coffee world now, who got in from different fields. So you can meet a lot of interesting personalities. Starting from lawyers, IT specialists, photographers, people who were interested in coffee so they started to do it for a living. Their stories are incredible and I love their openness to share their coffee knowledge with others. This is so positive for me.
Aleš: Meeting new people is probably one of the best aspects of our job. The thing we are doing seems for many people just as travelling and drinking coffee. But there is a lot of work behind it. We spend most of the time sitting here in this office. Editing, writing, doing administrative job. Which doesn't always give us a lot of energy. But then we meet the people and their reactions and the meetings are amazing satisfaction. The fact that people know us and appreciate our work gives us the motivation to go on. Thanks to them we continue to look for new ways and sponsors and do our best for the European Coffee Trip project.
Meeting new people keeps us motivated
What do you think about coffee from Starbucks and other coffee chains?
Aleš: Starbucks definitely played important role in the evolution of the coffee industry. They also began as a small company aiming to serve people good coffee. Their biggest accomplishment is that they taught people to pay for coffee, to go to cafés. But their coffee is still a lot about sugar and milk. When you cover the taste of the coffee with milk and sugar, it isn't right. Today you can find coffee that has its own family tree, like wine does. You want to know which farmer from which farm harvested the coffee, how was it processed. You want to know the story of your coffee. That's why it is so important for its taste to stand out.
Radek: Unlike Starbucks, specialty coffee is much cheaper. It proves that drinking good coffee is not just for the rich or snobs, but it's available for everyone.
Have you also visited coffee plantations?
Both: Yes!
Aleš: It was our big dream that finally came true in December last year. We travelled to Tanzania. To the northern city of Arusha to document where the coffee journey begins.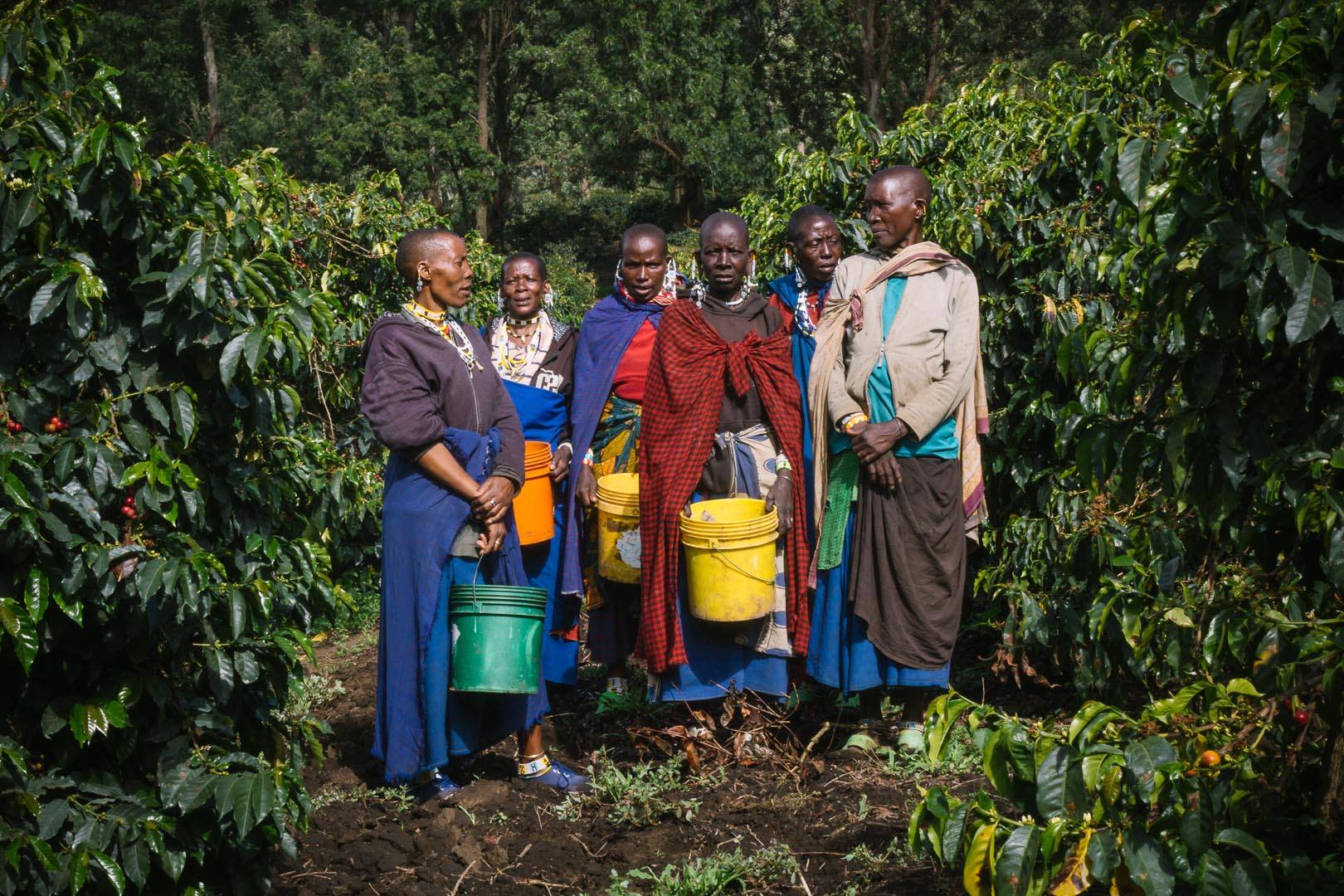 What was it like?
Radek: I felt like a little boy, who has just discovered a new world. It was a culture shock for me, I've never been outside Europe before. So I was both shocked by the poverty and fascinated by the coffee. I could see how much work does it take to produce coffee. I finally tasted the coffee cherry (and checked that it really is sweet). For the first time I saw the coffee plantation and found out, that if you walk through the blooming field, it smells unbelievably. It certainly meant more for me than just getting to know the coffee better. I came back a little bit different, I much more appreciate the things we have. But of course I also appreciate each cup of coffee much more. Because now I finally now how much work is behind it.
Do you even have time for sightseeing during your coffee travels?
Radek: I've never really been so much into sightseeing. I've prefered to discover the places through the coffee houses. Which is also the thing we are trying to promote, the so called coffee tourism. Moreover, since we are meeting the baristas who are locals and usually speak good English, we learn a lot of valuable information from them. They recommend us places we should see. But it's not like we plan that "we have to see this". For me, the main goal of the journey is to get plenty of quality material that I can further work on and share it.
We discover places through the coffee houses
How much time of your work do you spend on the road?
Both: A third.
Aleš: It would be of course better if we could stay longer at a certain place and prepare the final outcome right away. But this is how it is set now, we spend one third of the time on the road and the rest here in our office. Since we are offering online magazine, we are somehow committed to regularly publish articles or videos. It's expected from us to have an outcome, to share our activity on social media. But as the European Coffee Trip is getting bigger, we decided to ask for help from a few contributors. So now, when we need to make interview with someone in Spain, somebody who lives there can do it for us. And we can spend the saved time on more difficult or more interesting projects.
For example?
Aleš: It's a secret (laughing).
What it's like to do business with a friend?
Radek: I think that in these past two years we have learned how to get along. Plus we both have quite high degree of self-reflection. And we are not argumentative types.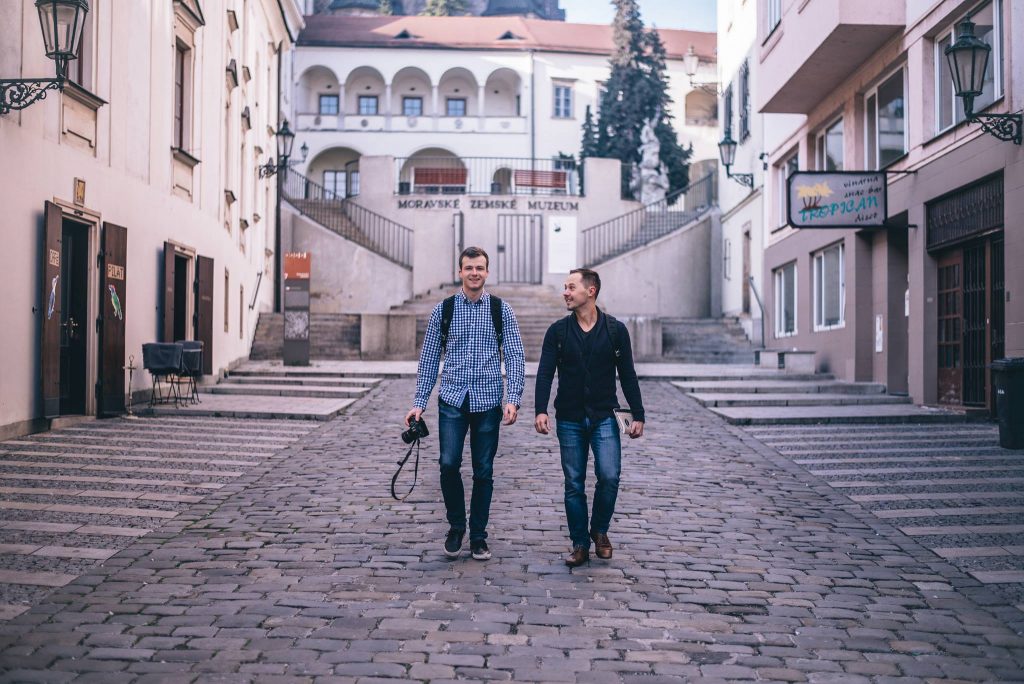 Do you enjoy writing the articles?
Aleš: That's my job, although we have enough contributors now. In the beginning, we spent a lot of time planning and coming up with the concept. We agreed that we will see what happens in six months. Radek wanted to improve his photography skills, for me it was writing in English. If we'd given it up after half a year, we could still say that it wasn't a waste of time, that we made a progress. The fact that we continued means that we have decided there is still a lot to learn. And that the project also has some sense economically.
Is it enough to make a living?
Aleš: Well, it's not exactly the salary that would be adequate to the amount of work we put in. Or what we would get working somewhere else. But it's something that is enough for us to make a living and it seems we might earn more in the future.
What are your plans to the future? Would you like to make "World Coffee Trip"?
Aleš: I don't think so. We like the European dimension. It's also because nobody else is doing this in Europe. We have a certain aim, that when someone will be looking for information about specialty coffee in Europe, he or she will find it through our web. Be it coffee places, articles, on-going events. We have also more ambitious projects, like a documentary about coffee or a book.
Radek: Documentary is my personal motivation. The entire project started with us, showing that we are still learning and the content will get better and better during times. For me personally, a documentary would be a peak. Even now I see a shift when I compare how I edited videos in the beginning and now. I didn't study filmmaking. That's why I'm always educating myself, watching videos, reading expert articles. Documentary would be a nice completion.
So once when you make the documentary, it will be over?
Aleš: I would also like to know how he meant it (laughing).
Radek: (laughing) No, no. If we succeed, I will be able to say "wow, I'm really proud of what I accomplished." But it's not so much about me as it is about the fact that it actually helped people, gave them some insight. That's the biggest thing for me. Not only that I made a documentary, because without audience there is no movie.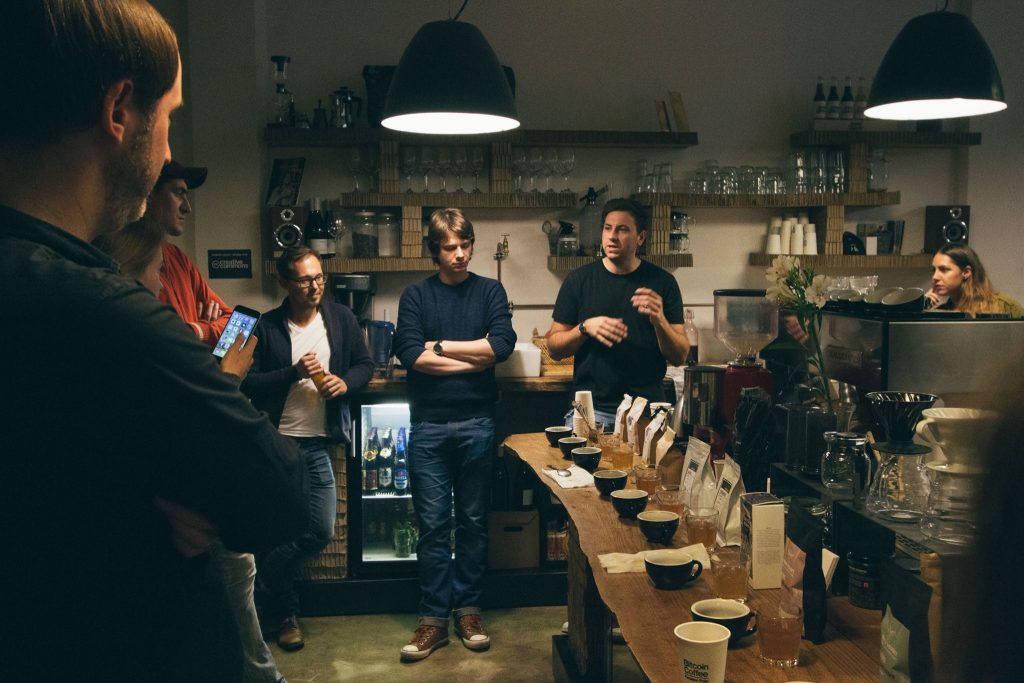 What are you usually doing, when you are not drinking coffee?
Aleš: I love sports. But sometimes it's just an empty phrase (laughing). I exercise with kettlebell, I even have one here.
You also have a gym here?
Aleš: Well, now it mainly serves as a window stopper (laughing). But doing sports is a great relaxation for me. When I need to unwind I go running. When you have a job like ours, it's hard to separate work from the rest of your life.
Radek: I started meditating recently, I'm on the 10th day now. It helps me concentrate better and organize my thoughts. Moreover I still try to educate myself in video editing, photography and so on. It's fun for me and relaxation as well.
So you can say you have a job that you enjoy 100%?
Radek: Definitely. And mainly, every day is different. The office work is balanced with travelling. The diversity is the best part of our job.
Aleš: Moreover it's great that our online magazine is useful to people and actually helps them. There are not so many digital magazines about coffee. We write about people who are doing their job very well and love it. And thus we enjoy it too.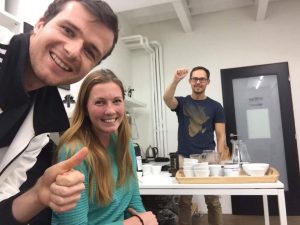 I met Radek and Aleš in their office in Impact Hub in Brno, Czech Republic. The room had a pleasant smell of coffee. We drank three cups of delicious specialty coffee, I've learned few new things and so I can level up my coffee addiction.  It was obvious from our talking that the two love their job and it makes them feel fulfilled. I wish European Coffee Trip a lot of success so that they can still inform us about the best coffee places in Europe. Get inspired too and visit their online magazine and Facebook, Instagram or Youtube. 
Photo credit: European Coffee Trip